East Pop - London Artists
Creative and Fun Wedding Guest Book Ideas - Part II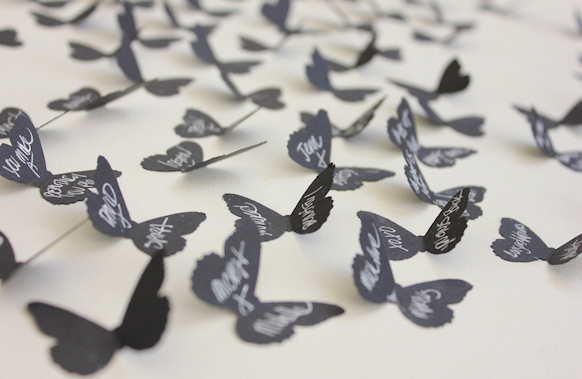 Globe guestbook
Your guest might be from diverse cultures and different countries around the world. A guestbook inform of a globe would be an excellent way to incorporate everyone's message from various regions of the world.
Mini envelopes
A unique way to design a wedding guest book that not only looks beautiful and adorable but will be fun to read is to glue mini envelopes into the pages of the book and encouraging attendants to write small words of advice in the form of letters. When the wedding is over the couple will someday sit down and enjoy reading hundreds of letters in their mini post box guest book.
Thumbprint art
Thumbprint wedding guestbook is a huge trend out there today. A thumbprint art idea it's a unique way for a wedding guest book and it involves having your guests dip their thumbs into a bow with many colored paints and thumbprint an image of their choice. The end result would be a colorful and striking piece of art which can be placed in their bedroom or on the walls of their living room. Guests can as well sign their names and write a few marriage advice words on their thumbprints to help the bride and groom to remember them. A washable ink and wipes are a requirement in this style.
Puzzle pieces
When you're married, it's a way to express to the world that you have found your better half. Then it would be wise to have a puzzle as your wedding guestbook since you have found your missing link. Guests would be supplied with the individual puzzles and sign or write marriage advice to the newly wedded couple. Later on, after the honeymoon, the couple would put the pieces together to make it a whole if so they wish and hanging it on the walls or just place them in their particular box.
Guest libs
Who dint love Mad Libs when he or she was a kid? And what a unique way to have your wedding guests write words of wisdom, their congratulations, and delight than on a guest libs guest book. Don't worry about the templates just google free templates online and you ca get hundreds of downloadable templates to choose from.
Oars
Couples have different themes in their weddings and oars would be a perfect guest book choice for a nautical themed wedding. Guests would love such an idea where they are supposed to write their words of wisdom on the paddles. The paddles would make a great décor when hanged in the bedroom to look and admire every time they wake up.
Guitar
For those who love music and are passionate about it then a guitar would be a perfect day guest book. Guitars have plenty of surface area to write notes. The newly wedded couple would treasure such an instrument.
Words of wisdom the vintage way
Setting up a vintage typewriter for a vintage styled wedding and allowing guests to type up notes of advice to the couple who are exchanging their vows would be very stylish.It would be fun for the couple to read all those notes someday after their wedding.