East Pop - London Artists
Creative and Fun Wedding Guest Book Ideas - Part I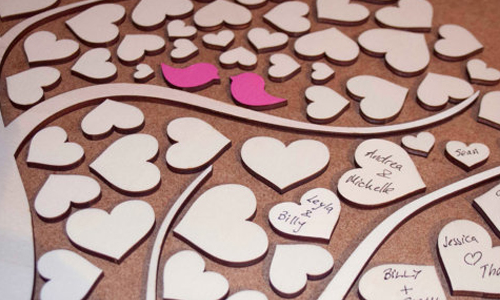 Guest books serve as a reminder of the day you exchanged your vows with your partner, and they are also a reminder of your friends and family who turned up to be with you in that special moment of your life. Traditionally the practice was there, where guests would be presented with a plain white book to write their sweet notes of congratulations and advice. Today those boring plain guestbook that would not last for many years have been outdated, and guests nowadays are greeted with something unique such globes, digital surfaces, original pieces of art, wine bottles and many other fantastic guestbook ideas. Here are some inspiring creative and fun wedding guest book ideas.
Signature-Only Guest Book Tree
You might decide to purchase a wedding guestbook that has beautiful drawings of trees, and the leaves are already in place. All that is required from the guests is to write their names and few words of advice on the leafs of the tree.
Digital surface
Since we are in a digital era and the technology is advancing every day to make work easier for humans then it would wise to invest in a digital surface where one can scribble, voice, video and write their message of advice in any way they wish. This would be a great digital guest book which can be translated into a film for the couple to watch and their grandchildren.
Anniversary wine or champagne bottles.
You can spice your wedding anniversary or occasions that will remind you of your wedding day in future by providing guests with customized wine or champagne bottles to sign and write their messages to be read on these occasions.it would be a perfect wedding guestbook idea mostly utilized on a vineyard garden occasion or garden weddings.
Game Board
One of the ways to spend your night with your better half is by playing a game such as a monopoly or any other that requires a game board. You can turn your game board into a guest book by giving your guests the materials to sign and write their messages. This would be a brilliant way since every time you're playing your games you'll both have warm memories of your wedding day which probably will remind you of your vows
River stones
What an exceptional way would it be where you attend a wedding and the guestbook it's a small smooth stone or a pebble which you're supposed to sign and write your message to the couple. The rocks would then be sprayed with clear acrylic gloss for durability purposes, and they can be put in a glass vase or decorating your backyard garden
Shell collection
Sometimes it's a good idea to extend the theme of a wedding into the guestbook. A wedding occasion along the coastal areas or by the sea can use the presence of shells to its advantage by placing them on the tables and requesting guests to sign the shells inside with special gold leaf markers.
Personalized Platter
A platter would make a unique wedding guest book. You can head to the local pottery shop and buy for a beautiful plain white platter for your guests to sign and write something using a particular marker. After the occasion, the platter should be glazed and refined for the purpose of durability.Hanging it on the wall would serve as a reminder of that special day.
Canvas art
You can get a canvas from any art supply store and turn it into an amazing wedding guestbook .just buy some brushes, ink, and markers for the visitors to use when they are signing and writing their messages. The output would be a unique original piece of art which can be hanged on the wall for the couple to admire many years to come.